Posts for tag: nutrition
By East Rock Dental, LLC
April 21, 2021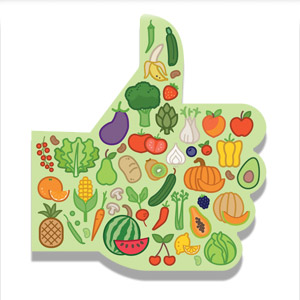 There are great health benefits to eating better, including for your teeth and gums. But to determine your ideal diet, you'll have to come to terms with carbohydrates, the sugars, fiber and starches found in plants or dairy products that convert to glucose after digestion.
Carbohydrates (also known as carbs) are important because the glucose created from them supplies energy and regulates metabolism in the body's cells. But they can also create elevated spikes of glucose in the bloodstream that can cause chronic inflammation. Besides conditions like diabetes or heart disease, chronic inflammation also increases your risk of periodontal (gum) disease, a bacterial infection arising from dental plaque.
Many concerned about this effect choose either to severely restrict carbs in their diet or cut them out altogether. But these hardline approaches deprive you of the benefits of carbs in maintaining good health. There's a better way—and it starts with understanding that not all carbs are the same. And, one difference in particular can help you properly manage them in your diet.
Here's the key: Different carbs convert to glucose at different digestive rates of speed measured on a scale known as the glycemic index. Carbs that digest faster (and are more apt to cause glucose spikes in the bloodstream) are known as high glycemic. Those which are slower are known as low glycemic.
Your basic strategy then to avoid blood glucose spikes is to eat more low glycemic foods and less high glycemic. Foods low on the glycemic index contain complex, unrefined carbohydrates like most vegetables, greens, legumes, nuts or whole grains. High glycemic foods tend to be processed or refined with added sugar like pastries, white rice, or mashed potatoes.
Low glycemic foods also tend to have higher amounts of minerals and nutrients necessary for healthy mouths and bodies. And fresh vegetables in particular often contain high amounts of fiber, which slows down the digestion of the accompanying carbohydrates.
Eating mainly low glycemic foods can provide you the right kinds of carbs needed to keep your body healthy while avoiding glucose spikes that lead to inflammation. You're also much less likely to experience gum disease and maintain a healthy mouth.
If you would like more information on nutrition and dental health, please contact us or schedule an appointment for a consultation. You can also learn more about this topic by reading the Dear Doctor magazine article "Carbohydrates Linked to Gum Disease."
By East Rock Dental, LLC
May 18, 2019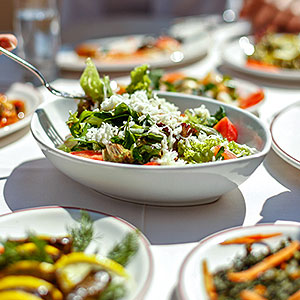 There are a number of lifestyle changes you can make if you want to reduce your risk of oral cancer, with quitting a tobacco habit at the top of the list. You should also moderate your alcohol consumption and practice safe sex to prevent the spread of the human papilloma virus (HPV 16) linked to oral cancer.
And there's one other area that might be ripe for change—your diet. The foods we consume can work both ways in regard to cancer: some, especially processed products with certain chemicals, increase your cancer risk; more natural foods, on the other hand, can help your body fight cancer formation.
Although how cancer forms and grows isn't fully understood, we do know some of the mechanisms involved. One major factor in cancer growth is damage to DNA, the molecule that contains all the instructions for normal cell growth. Certain chemicals called carcinogens cause much of this DNA damage.
One example of these dangerous chemicals are nitrosamines, found in substances used to preserve meats like bacon or ham. Nitrosamines also occur in beer during the brewing process, some fish and fish products, processed cheese and foods pickled with nitrite salt. It's believed long-term consumption of foods with these chemicals can increase the risk of cancer.
On the other hand, there are foods with substances called antioxidants that help our bodies resist cancer. Antioxidants protect cells from unstable molecules called free radicals that can also damage DNA. You'll find antioxidants in abundance in fresh fruits and vegetables, especially those high in fiber. Vitamins like C and E found in many natural foods also have antioxidant properties.
So, to help keep your risk of cancer and other diseases low, make sure your diet includes mostly fresh fruits and vegetables, along with plant-based fats found in nuts or olive oil.  At the same time minimize your consumption of processed foods with preservatives and other chemicals, along with animal and saturated fats.
A change in eating not only reduces your cancer risk, it can also improve your overall health and well-being. You'll also find a healthy diet can be dental-friendly—it can help keep your teeth and gums disease-free and healthy.
If you would like more information on dental-friendly nutrition practices, please contact us or schedule an appointment for a consultation. You can also learn more about this topic by reading the Dear Doctor magazine article "Diet and Prevention of Oral Cancer."
By East Rock Dental, LLC
August 29, 2017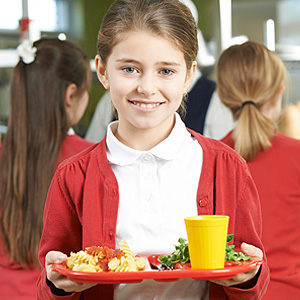 Sending the kids back to school means it's time to start packing those lunch boxes! What your children eat and drink can have a big effect on their oral health. So it's important to know what the best choices are… and what to avoid. Here are some tips for sending your kids off with a tooth-healthy school lunch every day.
Tip 1: Avoid Sugary Drinks
The scientific evidence is overwhelming that sugar is the most important dietary factor in causing tooth decay, and soft drinks are the largest source of sugar in many kids' diets. Even natural fruit juices have unhealthy amounts of sugar. So when it comes to beverages, keep it simple: H₂0 is the way to go!
Tip 2: Get Creative With Shapes & Flavors
Healthy food that's low in sugar doesn't have to be boring! You can use cookie-cutters to shape calcium-rich cheese and whole-grain bread into flowers, stars — even dinosaurs. Unbuttered popcorn can be flavor-boosted with a dash of cinnamon or parmesan cheese. There are all kinds of ways to get creative.
Tip 3: Sweeten The Deal With Fruits & Veggies
While fruits and vegetables do have some sugar, they are a good choice for a healthy smile — and a healthy body. That's because they also contain plenty of water and fiber, which slows the body's absorption of the sugar… and even helps clean the teeth! Kids enjoy the naturally sweet taste of bite-sized fruits and vegetables like cherry tomatoes, baby carrots and seedless grapes. And the cheerful, bright colors of these nutritious little nuggets make them even harder to resist!
Of course, even with a healthy diet, your kids still need to practice good oral hygiene at home, and have regular professional cleanings at the dental office. If you have any questions about nutrition or oral hygiene, contact us or schedule an appointment for a consultation. And have a happy, healthy — and delicious — return to school!